Raiden X is a flash remake of Raiden II created by Googley, which was more basically a major and more successful update of his game, The Raiden IIs (which is a 2-part Raiden game) and published by CrazyMonkeyGames.com. It was released on the internet in 2005. Despite being not developed by the actual Raiden creators, Raiden X has won numerous awards.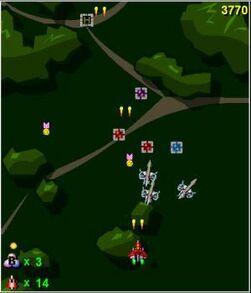 There are a total of 8 levels in Raiden X, which most of the bosses return and are the same as in Raiden II, but some differences include that the Payak Colossus Tekniikan is larger than it's depiction in Raiden II, same goes for the Cranassian Kamikaze Warship.
Because of Raiden X being exclusive online to Mac and PCs, the controls for Raiden X is Z for the firepower, and X is for releasing the bomb specialty, but when you obtain a different power beacon, not only does your ship change color, but gives you a different bomb specialty as well.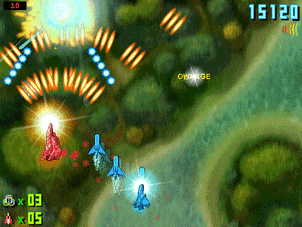 On Googley's Raiden X site, he announced that he would create a sequel to Raiden X known as Raiden X2. The release date online has not been confirmed, but however, screenshots of the sequel did appear.
Reception
Edit
Raiden X has been well recieved by critics, as though the animated BG isn't as the one in Raiden II, but the gameplay, 3D effects, and music and SFX were great in quality.

These are the awards Raiden X won:
Hot Game - Freeworldgroup
Daily 1st Place - Newgrounds
Review Crew Pick - Newgrounds
Weekly User's Choice - Newgrounds
Frontpage - Newgrounds
Top 50 - Newgrounds
Top 50 - Flashplayer
Featured Flash - Smosh
Weekly 1st - Smosh
Frontpage - Smosh
TV Showcase - G4TV Channel
External Links
Edit
Community content is available under
CC-BY-SA
unless otherwise noted.