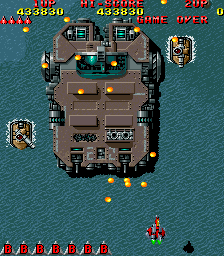 Phalanx MK-III is the boss of stage 3 in the original Raiden.
Phalanx MK-III is a boat battleship. It is equipped with eight guns within hatches which constantly open and close and can only be destroyed when opened. Once all guns are destroyed, the boss will reveal its many cannons behind which cover a 180° area in front of it. It's core will also become vulnerable at this point. The boss will constantly be aided by gunboats coming from both sides.
Community content is available under
CC-BY-SA
unless otherwise noted.