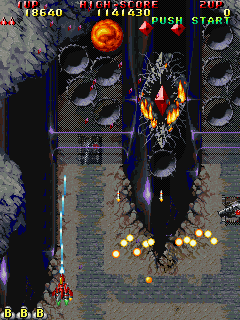 Mother Haven is the final boss of Raiden II, and the true penultimate boss in Raiden DX. Its design and attack pattern has inspired similar final bosses in later sequels.
Description
Edit
Mother Haven is the core fortress of the Cranassians. Strangely it is powered by a Red Crystal. It shoots a lot of bullets. When it's shield is damaged, it drops a set of small Red Crystals that must be destroyed quickly. Tanks come out of the base from each side.
Raiden DX Storyline
Edit
If you didn't use ANY Bombs and didn't die on the whole playthrough, you will see a Red Crystal escaping throughout the space, meaning you will have to defeat the True Final Boss, the Gray Nodule.
Community content is available under
CC-BY-SA
unless otherwise noted.