The Ixion is a special fast-paced fighter built as part of the XTF Project. It appears in Raiden Fighters Jet as a new fighter with unique special abilities.
The Ixion is a jet fighter, designed with the latest technologies.
The Ixion's wings are forward-swept, a configuration in which the quarter-chord line of the wing has a forward sweep. This wing can give the aircraft excellent agility and maneuverability. In each of these is a gun and pylons for its missiles. It also uses canards for stability.
Operational History
Edit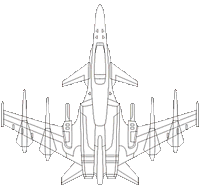 The Ixion was developed as part of the XTF project.
After testing was complete, the Ixion saw its first mission. In this mission, it was to attack a facility occupied by hostile forces with the other Raiden Fighters. After destroying the surrounding forces, the Ixion chased down and destroyed the XTF-01 experimental bomber and shot down its on-board cruise missile before it struck an urban area.[1]
The Ixion's weapons are pretty similar to some of the previous fighters from Raiden Fighters 2: Operation Hell Dive, for instance, the Ixion's missiles are fully powered-up versions of the Dark Swords with the charged attack sending a barrage of these missiles, but the lasers for the Ixion are thin purple versions of the laser of Raiden II, and the charge attack is four purple giga lasers being fired all at once, making this a powerful full-flexed fighter.
Appearance
Edit
Raiden Fighters series: The Ixion appears only in Raiden Fighters Jet as a fast and somewhat powerful fighter, and appears in the game's opening as well.
The Ixion's overall appearance is based on the Sukhoi Su-47 experimental fighter as well as sharing some similarities with the Grumman X-29
References
Edit
↑

Final Mission of Raiden Fighters Jet
External Links
Edit
Fighters
Interstellar Fighters
Raiden Supersonic Attack Fighter, Raiden mk-II, Raiden mk-IIβ, Judge Spear, Blue Javelin, Dark Sword, Fighting Thunder ME-02, Fighting Thunder ME-02β, Azuma, Spirit of Dragon, Moulin Rouge
Generation 1 Classic Fighters
Aegis, Beast Arrow, Devastator, Chaser, Endeavor
Generation 2 Classic Fighters
Aegis IV, Chaser 2000, Beast Wing, Death Header, Flying Ray, Eraser, Griffin, Aegis II-c
Experimental Fighters
Hell Diver, Ixion
Living creatures
Miclus, Fairy
Other
Slave
Community content is available under
CC-BY-SA
unless otherwise noted.