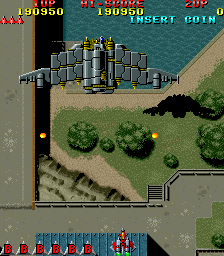 The Flying Fox is the second stage boss from the original Raiden, and the first aerial boss in the series. It appears exclusively as a stage 6 boss in place of Guardian in the Raiden Trad SNES port.
Flying Fox is a armored airship protected by layers of flying drones. After fighting some of those drones, the boss shows up and starts its attack. After some damage the drones protecting it will be released and fly towards the player in flocks of six at a time. Once all of them are released, the boss's main guns are revealed.
Community content is available under
CC-BY-SA
unless otherwise noted.