| | |
| --- | --- |
| | This article is a stub. You can help Raiden Wiki by expanding this page and giving a better description and more information. Remove this template from this article once more information, detail, and description have been added. |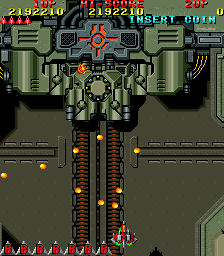 Doreineji Core is the final boss of the original 1990 Raiden vertical shooter.
Description
Edit
Doreineji Core is a green module with a Red Crystal contained inside. It fights in a traditional manner to many bosses by firing a few random bullets across parts of the stage, with some areas where the player won't be hit, which makes the Doreineji Core an easier boss to fight.
Speedkill tips
Edit
It is possible to destroy this boss quickly if you have the Laser and the Homing missile, this is also works if you have the Missile Launcher equipped.
Once this boss is destroyed, it will cause the whole base to shut down and explode.
The Cranassian logo can be seen through the base during this boss fight. The boss itself also sports the same logo.